Today, marcomms are more complex than ever before. The duopoly of Facebook and Google now dominates online media investment while offline media buys remain important for many larger brands.
There are also many more opportunities to use content marketing to reach audiences on smaller media sites, blogs and social media through influencer outreach and re-targeting.
Owned media such as company websites, apps and social media pages play a pivotal role, since if you can encourage interactions on this brand there are opportunities to design integrated communications to influence audiences throughout the customer lifecycle using email automation, web personalisation and re-targeting. Yet more complexity is added as audiences vary their use of smartphone, tablet and desktop to consumer media across different dayparts.
The need for digital transformation
Our Managing Digital Marketing research revealed many challenges of how digital marketing is run in companies today. Problems included lack of focus on integrated strategy, testing and optimisation and structural issues like teams working in silos or lack of skills in integrated communications.
To counter these types of problems and so make the most of the opportunities for growing a business through digital marketing, many businesses are now putting a digital transformation programme in place. This chart from the research shows how many are active in transformation.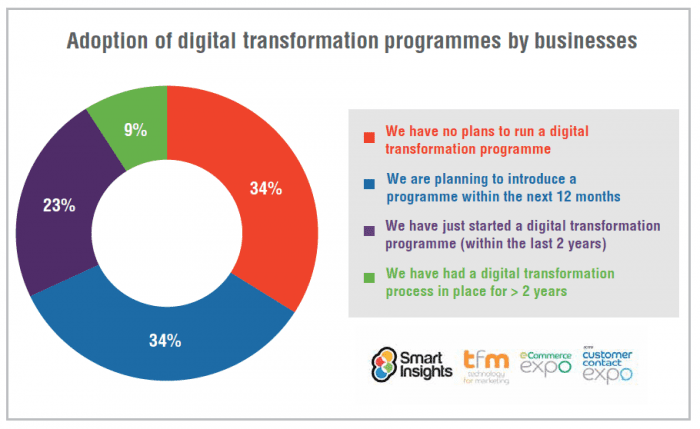 How is this briefing structured?
Our briefing will step you through 10 success factors which leading companies are deploying today to future-proof their business by creating more effective, joined-up media investments and customer journeys.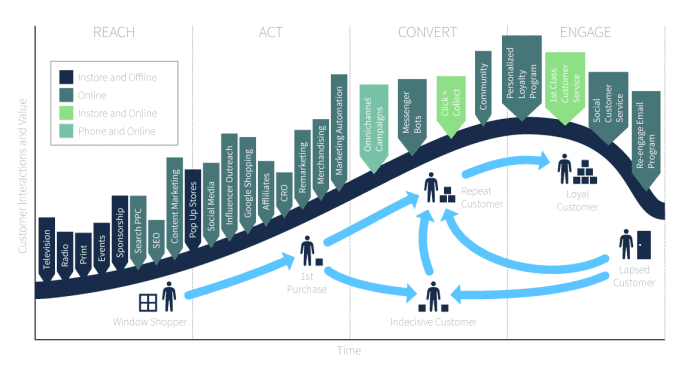 This visual example for the e-commerce sector shows the many opportunities for online and offline communications through the customer lifecycle. Our Integrated Marketing 2020 vision is that these touchpoints should be optimised by putting in place the right People, Processes and Marketing technology so they are mutually re-inforcing.
1. Resource to compete
You won't be able to compete if you don't have the right types or levels of investments in people resources, media or tech to run different digital marketing techniques against intense competition. Whether it's programmatic display, search marketing, social media or marketing automation, success in each involves the use of specialist techniques which require the right skills to optimise them to compete. Depending on your size, sector and how mission-critical these techniques are you may want to outsource them or run them in-house.
Here's an example of intense competition. This chart shows market share for Google AdWords for different financial services sites. The top 3 have a clear lead on their competitors to gain visibility in the search engines. What's more, rather than outsourcing  'mission-critical' search channels, Moneysupermarket has a dedicated in-house search marketing team covering paid and natural search and is resourced to compete and ensure newer techniques such as mobile search marketing can be exploited.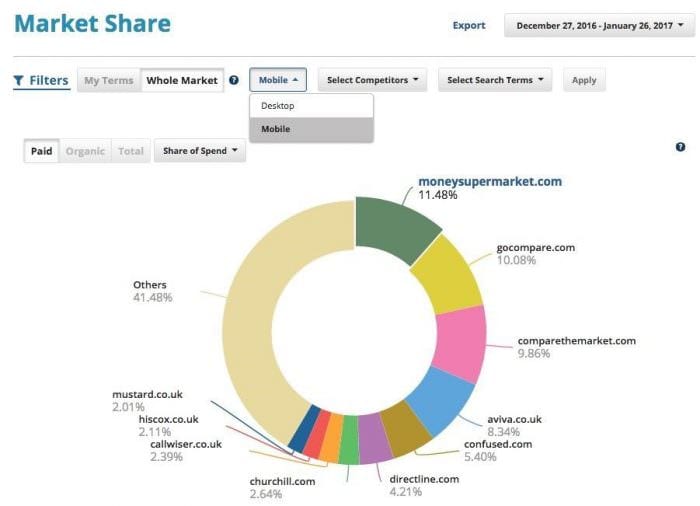 Source: Financial Services UK: AdThena
Strategy Recommendation: Define your opportunity: the size of your digital prize!
You won't be able to set resources at the best level if you don't know the potential for online marketing, so it's best to define SMART objectives for contribution of reach, leads and sales based on what it's delivering now and what it can deliver in the future.
Opportunity. Quantifiable SMART objectives based on your analytics and market analysis insights. State your assumptions and what informs your objectives.
Strategy. Where you will focus your resources and investment to hit your targets.
Action. Managing tasks to implement your strategies.
Use the Smart Insights conversion spreadsheet models to implement realistic goal-setting.
2. Future-proof your business model
Today, failing to respond to digital disruption is a risk since new ways of buying and selling using digital media and technology rapidly become the norm. Five years ago programmatic advertising or smartphone experiences weren't important. Now in some sectors they can account for more than 50% of channel interactions. Disrupt your sector or risk being disrupted should be the mantra.
This chart gives a sense of how the impact of digital disruption varies by industry, from dramatic transformations to limited change. Even if you are in a sector where business model disruption has been limited to-date, new entrants or more agile businesses will be making their move.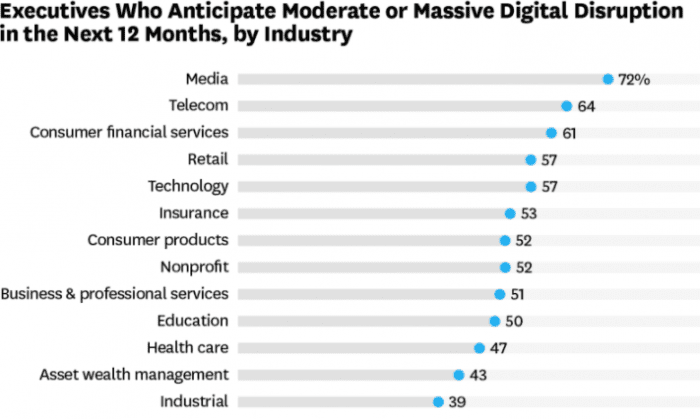 Harvard Business review: The Industries That Are Being Disrupted the Most by Digital
Strategy Recommendation: Review options for updating your business model using digital media and technoology
The implication are clear. Think about options to refine your business model or add new services to your offerings in the light of new opportunities made possible by digital media and technology.
The Business model Canvas developed by Osterwalder and Pigneur is a valuable framework for summarizing strategy for startup online businesses or existing digital teams. it was published as part of a co-creation project involving 470 practitioners from 45 countries. it's also available as an app and downloadable templates on the Business model generation site.
The main sections of the canvas, in a logical order to consider them, are:
1. Value proposition. This is at the heart of what the business offers to its audiences and is arguably most to important success
2. Customer segments. Different target audiences that the value propositions will appeal to. in the business model canvas, the alternatives recommended are mass market, niche market, segmented (broken down further) or a range of diverse segments.
3. Customer relationships. The types of relationships that will be formed, for example self-service, automated services, communities or more personal assistance. Co-creation of content may be part of this.
4. Channels. The methods by which the organization's services will be delivered and the audiences reached.
5. Key partners. To exploit online and offline value networks, forming partnerships gives an opportunity of expanding reach and taking advantage of existing organizations and online influencers that have built an audience.
6. Activities. The main activities that need to be performed to deliver the value proposition to develop revenue.
7. Resources. Different types of process and people to complete the activities to create and deliver the value proposition.
8. Cost structure. Different cost-elements. these should be checked against activities and resources. Costs are classically broken down into fixed and variable costs and economies of scale.
9. Revenue stream. This is the method by which a business derives income. Common online options are: ad revenue, subscription fees, sales of physical or virtual goods or affiliate-based commission arrangements. licensing and leasing are other alternatives. an example of how these nine different elements of a business model can be applied is shown below – a more detailed SOSTAC® Digital Marketing Plan for this example business is available for Smart Insights Expert members.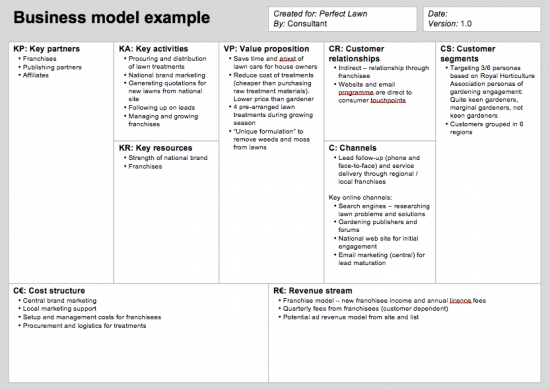 3. Engaging content-led brand personality
Since digital media make comparisons of products more convenient, this tends to commoditise products, such that, in many sectors, you can only effectively differentiate through the emotional connection conveyed by a company, its brands and the personality of communications and experience.
We like the way Rohit Bhargava of Ogilvy New York describes brand personality in Personality Not Included:
"Personality is the unique, authentic, and talkable soul of your brand that people can get passionate about. 

Personality is not just about what you stand for, but how you choose to communicate it. It is also the way to reconnect your customers, partners, employees, and influencers to the soul of your brand in the new social media era".
The visual appeal, types and quality of content you deploy across the customer journey can go a long way to enhancing your personality and developing those emotional connections.
A gap analysis using the Content Matrix is a great tool to support this activity. We describe how to use this and the companion Content Distribution Matrix in our Content Marketing strategy guide.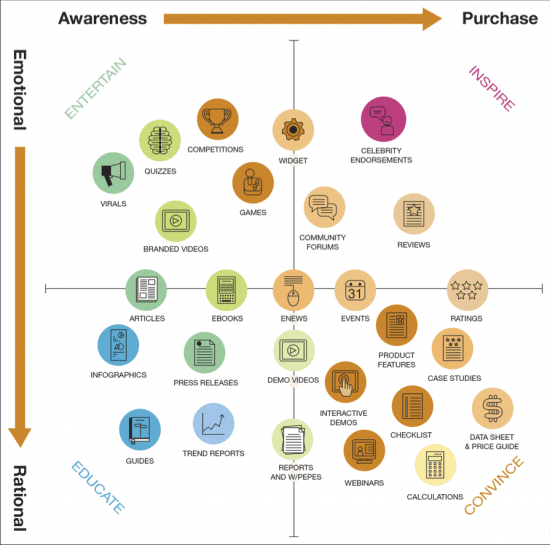 4. Multi-channel lifecycle integration
It's no secret that engaging your existing customers is crucial to achieving continued profitability, and it's also well known that it is usually far easier and costs less to get repeat business from existing customers than it is to acquire new ones from the get-go. Customer relationship management (CRM) is established as a technology and process to try to achieve this, but this 'relationship' begins today with the first contact with the customer when they are simply a contact or prospect. With the advent of Marketing Automation, it's become common to consider creating a contact strategy to engage audiences through email, personalisation, social media and traditional channels through an entire lifecycle of all contacts and contacts. The McKinsey consumer decision is one example of this lifecycle.
This visual summarises all the potential ways to influence and audience through the lifecycle.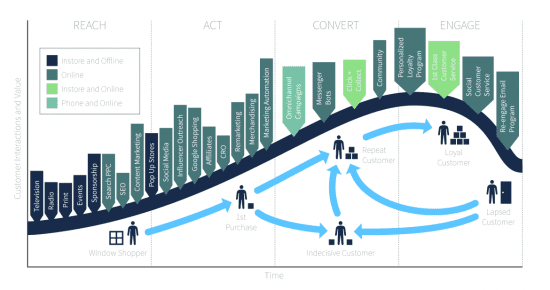 While some channels such as social media and SEO are well known we find that some techniques such as remarketing and influencer outreach are used less widely or not fully optimized.
Here is one example of the power of integration showing how combining Facebook ads with email achieves uplift: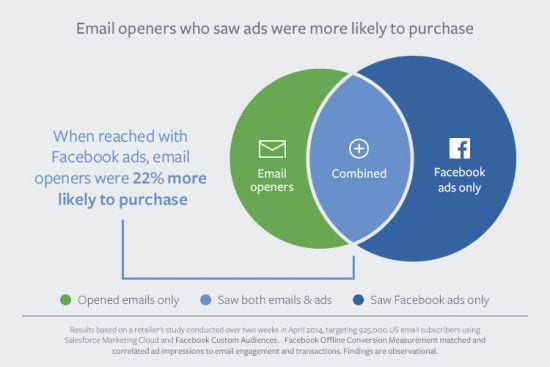 In this case, the advertiser's most valuable customers were those who both opened the email and saw the News Feed ads as they were being reached by multiple channels. Coordinating messaging across channels resulted in reaching customers who were 22% more likely to purchase than those only reached by email. Facebook ads extended email campaign reach by 22%.
Here's another example from a Cross-media ad optimisation study of an FMCG brand from IAB Canada which convincingly makes the case for integrating online and offline media to increase reach (here measured as Opportunity to See (OTS)) and purchase intent.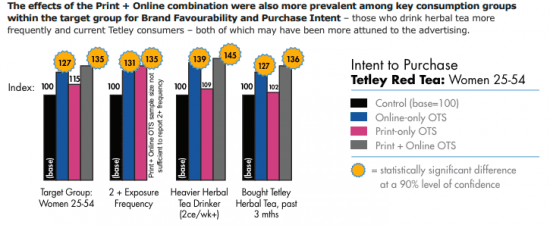 5. Insight-driven improvements
According to IBM, each day we create a mind-boggling 2.5 quintillion bytes of data, meaning that 90% of data in the world today has been created in the last two years.
There is certainly not a problem with lack of potential insight… Instead we risk drowning in data, ignoring potential insight together since the skills aren't there to tap into it.
What's needed is a process for analysing the data and acting upon it to achieve competitive advantage. Techniques covered in our Expert member resources that help explain how to harness and act on this insight including:
Goal and objective setting and dashboards
Improving website results using Google Analytics
Machine Learning and AI
Attribution and goal setting guide
Google Tag manager guide
Our RACE Digital Dashboard
Strategy Recommendation: Combine People, Process, KPIs and Tools
As we pointed out in our 2015 #ActionableAnalytics campaign, success with insight is not just about having the right tools; after all most businesses have Google Analytics installed on their site. Instead, it's mainly about people and process – providing the time and skills to encourage measurement and integrating data sources.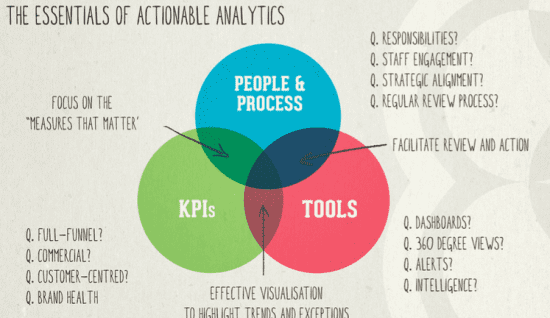 6. Aligned digital strategy
Digital strategy shouldn't exist in a vacuum, we want to avoid creating digital silos where experienced digital marketers 'do their own thing' without working with other parts of business or training them, so it's essential that it is integrated with business goals and current initiatives.
To achieve this alignment, the Smart Insights planning approach for digital marketing is to create plans with clear linkages between opportunity through SMART targets linking through to strategic initiatives to achieve them and KPIs to monitor action.
Best Practice: Create a hierarchy of plans for different timescales and activities
To help develop a more coherent approach to marketing planning, we suggest you develop a hierarchy of plans as shown in the diagram below.
Annual business and marketing objectives can cascade into goals, objectives and KPIs for different marketing activities on 90 day plans.
This visual explains the need for a hierarchy of plans at the top level.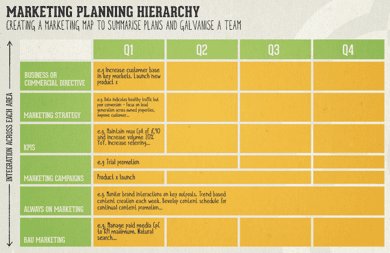 Recommended resource: Digital strategy toolkit
This template contains a full workbook of blank and example templates to create a digital marketing strategy to Reach-Act-Convert and Engage your audience over the next year or in a 90 day planning period.
We also have blank templates for creating better campaign briefs.
7. Long-term martech roadmap
Traditionally, business and marketing planning in many larger businesses has been long-term. Long-term planning enables consistent strategies to be followed in line with forecast changes in the marketplace and resources allocated. We recommend that, although digital media change rapidly, the long-term transformation needed by digital and the need to adopt new marketing technology means that you won't be able to transform the organisation in 3, 6 or even 12 months. Updating your CRM (customer relationship management system) or refreshing your website won't be completed in the next 3 months.
Strategy Recommendation: Create a long-term martech roadmap based on a gap analysis
A longer-term roadmap will define strategic initiatives that can be scheduled in to fit budget resource constraints. Our Martech 'Wheel' defines 30 essential categories of services that we recommend all businesses serious about improvement use at least one martech tool – learn more in the download about each category.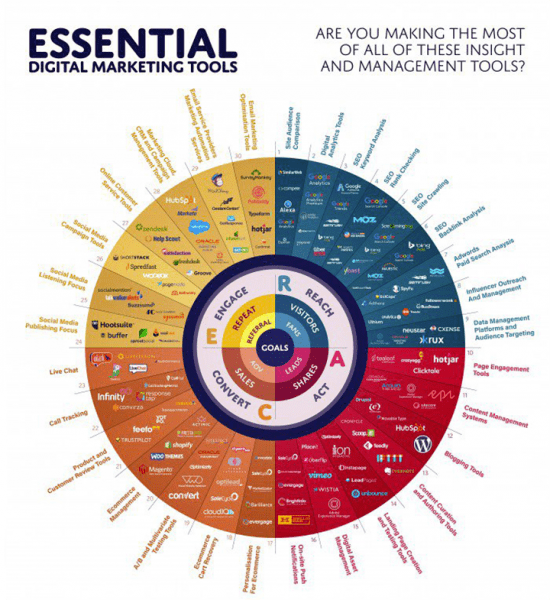 Use our essential martech guide to review your martech stack across the customer lifecycle – Ask team members and agencies responsible for different parts of the lifecycle whether the services you use give you the insight and capabilities to compete.
A gap analysis will compare current services against future.  For each category only one service should be needed – the guide gives our recommendations.
8. Always-on visibility and engagement
In the pre-digital era, marketing activities have been planned in campaign 'bursts' around new product launches and promotions. Digital marketing needs a change in mindset so businesses invest suf cient time and budget into 'always-on' activities which can be used in an integrated way to maximise visibility and conversion through the customer lifecycle.
What is it? 'Always-on' digital marketing activities
Always-on or inbound digital marketing aims to maintain continuous visibility and persuasion and engagement online  365 days a year as consumers and businesses show their intent to buy by searching online for information about products and services using search engines, social media, reviews, comparison sites and their preferred in influencers.
Always on activities also include marketing automation to follow-up on interested through email marketing, messaging, on-site personalisation and off-site re-marketing.
Strategy Recommendation: Review and optimize activities across the customer lifecycle
Many businesses haven't yet adjusted to create an 'always-on' marketing machine that uses digital marketing techniques to continuously tap into daily consumer intent. Yes, we will still need campaigns for demand generation and to push promotions, but these need to be balanced against always-on activities which we have seen sadly neglected way too many times.
Audit and optimize your Always-on customer touchpoints
Smart Insights resources are designed to support the trend to always-on marketing activities using the RACE planning system audit and workbook which defines 25 key activities that every business needs.
We recommend you map current and future online AND define 'always-on' marketing activities across the lifecycle using . This will help identify activities you may miss out on if you haven't planned projects to set them up or optimize them, e.g. re-marketing or marketing automation.
Our Persona template and Excel spreadsheet is also a practical tool for defining personas and content mapping across top-to-middle-to-bottom-funnel to 'operationalise personas'.
9. Hyper-targeted real-time media investments powered by Machine Learning
When using the World wide web for marketing first came to prominence in the mid 1990s, there was much excitement about personalisation offering one-to-one communications with prospects and customers. If you were working in marketing at this time you may remember the 'One-to-one future" by Peppers and Rogers described this future. For many years, this was out-of-reach for the majority of  businesses with only the largest pureplays like Amazon or eBay developing the tech in house to deliver on this. Hell, Amazon even had a 'Director of Personalization' back in 2004, how many other business can say they had the same focus on digital marketing then or now?!
Today, twenty plus years later, real-time personalisation and one-to-one personalisation is a reality for any business of any size who has the vision and commitment to use it.
Using insight on audience interaction with your ads from the ad networks and the major ad platforms like Facebook, Google and LinkedIn enables savvy businesses using Real-time Programmatic advertising services direct or via their agency to vary their creative messages and content throughout the customer lifecycle to define best targeting predictive of sale.
Today we need to use these services and our analytics to stitch together journeys across multiple desktop and mobile devices to define the best Effective Reach in our campaigns.
Hyper-targeting doesn't end with the use of Programmatic paid media buying. We also have awesome low-cost targeting options as audiences interact with our owned media like websites and emails. Whether it's a B2C audience or B2B these enable us to deliver the best, most relevant content to nurture prospects along the path-to-purchase.
What is it? Real-time Programmatic advertising services
Using real-time technology to deliver the most relevant messages, offer and content for advertisers to maximise response from targeted consumers who are served display ads.
10. Agile optimisation to Marketing Excellence
The use of Digital marketing is now mature or reaching maturity in many organisations as suggested by the first chart in this report. This will be clear from how digital activities are planned and managed, for example, a more mature approach to digital marketing will be evident if a business has a defined digital channel vision and strategy with buy-in at a senior level both in the marketing organisation and from business managers. The digital strategy will define clear goals, target audiences and strategies for how to reach, convert and engage these audiences.
A mature use of digital marketing will also be evident in the process for reviewing and improving key digital activities. There will be a clear dashboard with defined KPIs that will be reviewed regularly in line with objectives set from shorter-term plans and review at a 90-day planning plus monthly and weekly level.
For example at Smart Insights we use this detailed channel dashboard (also available for Expert members) pulling data from Google Analytics for weekly review, enabling us to review month-on-month and year-on-year changes in performance in a way not possible with standard Google Analytics reports – you can learn more about the approach in this blog post.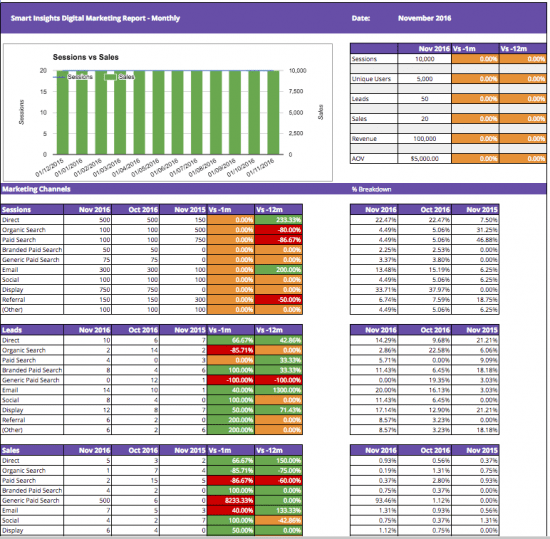 At a practical level, a business will have invested to create an effective website which is mobile optimised, will be active in social media on the channels relevant for their audiences and will have established programmes for reaching new prospects through the key channels such as search engine marketing, affiliate marketing and online advertising.
In terms of personalised messaging, they will have Marketing Automation in place to deliver relevant, contextual messages to prospects and customers using Email marketing and CRM. These organisations will also have approaches to manage customer journeys between digital and offline communications and assisted sales or service channels such as Phone and Live chat.