Use lifecycle marketing planning to improve the effectiveness and efficiency of your multi-channel communications
Take a more strategic approach to customer acquisition, conversion and retention communications with our Lifecycle marketing toolkit
Businesses that use a reactive, tactical approach to digital marketing communications may get some success thanks to the power of digital channels like search, social media and email marketing. But to scale your reach, maximise conversion and loyalty you need a more strategic approach integrating communications from different channels. Our lifecycle marketing resources will help you follow this more joined-up approach.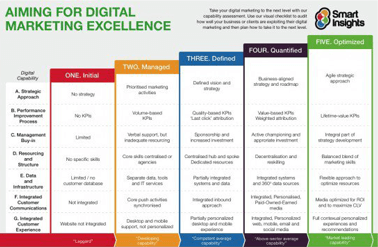 Using our proven system is a surefire way to grow your profits quickly.
Why Smart Insights?
Because global brands like 3M, GlaxoSmithKline, HSBC, HP, Microsoft and Vodafone—AND thousands of digital marketers and business owners—trust
Smart Insights to optimise their Multichannel lifecycle marketing. Many have grown their business—by over 50%—using the strategies revealed on this page 18.
Free resources including Search, Social and Email marketing templates that you can start using today
Start improving your Multichannel lifecycle marketing now with our FREE Digital Marketing Benchmarking Templates
Use our visual benchmark to rate your comms and get recommendations of improvement
Take an in-depth assessment across the full lifecycle
Start a plan with our free digital marketing template
PLUS: as a FREE Basic Member, you'll also get these bonus resources;
18 other actionable templates and guides, written by experts in digital marketing.
Benchmark your current capability in Multichannel lifecycle marketing-and 9 other essential areas of digital marketing-using our unique interactive Capability Assessment tool.
Improve your skills by doing the first lesson in each of our 10 e-learning courses for free.
Get personalised answers to your most urgent questions fast – by joining our online community of over 130,000 marketers
Expert Membership—for those who are
serious about FAST growth
Acquisition, conversion and retention are the lifeblood of most businesses, so, in larger businesses they warrant a planned, insight-driven process to make them as effective as possible. Yet often, they don't get the attention that they deserve if marketers are too involved with the tactical details of individual channels.
Our lifecycle marketing toolkit gives you structured guides and templates focusing specifically on acquisition, conversion or retention so that members can drill-down to create an effective comms plan focusing on just one of these activities.
In our lifecycle marketing toolkit advice includes:
How to create a customer acquisition plan and conversion-based budget
How to set up a structured testing programme for conversion rate optimization
How to create a customer retention plan
How to use advanced email marketing techniques such as onboarding and engagement
Armed with our Multichannel lifecycle marketing Toolkit, the world's top marketers use our unique approach to develop winning Multichannel lifecycle marketing strategies.
Multichannel lifecycle marketing Toolkit
Includes templates, ready-to-use strategy documents, step-by-step guides and resources that will help you create optimized strategies that deliver HUGE results.
Plan

Online Customer Acquisition Plan guide

Customer Retention Planning Guide
Manage

Online customer acquisition budget spreadsheet

Managing Customer Data to Improve Marketing ROI
Optimise

Conversion Rate Optimisation Briefing

Digital Marketing Goal Setting, Evaluation and Optimization Guide

Email Marketing Reengagement and Reactivation Guide

Email Welcome and Onboarding Guide
The Multichannel lifecycle marketing toolkit is included with Smart Insights Business Expert Membership-the secret
weapon behind the world's most savvy marketers.